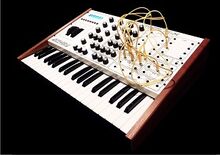 A manufacturer of synthesizer equipment, based in the UK. The company's products are wide-ranging, including: analog monophonic and semi-modular synths in keyboard, suitcase, and rackmount packaging; a variety of sequencers, and modules in Eurorack format. A notable set of models in the Eurorack range are the Concussor drum synthesizer modules.
Not to be confused with Analogue Systems, another UK-based Eurorack module manufacturer.
Ad blocker interference detected!
Wikia is a free-to-use site that makes money from advertising. We have a modified experience for viewers using ad blockers

Wikia is not accessible if you've made further modifications. Remove the custom ad blocker rule(s) and the page will load as expected.