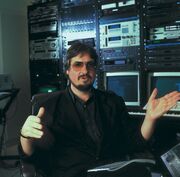 (1953-) Electronic musician best known as a pivotal member of Tangerine Dream.
Early music influences
Edit
Frank was born in the then-divided city of West Berlin in 1953. He was classically trained at the Berlin Conservatory, studying modern classical composers such as Stockhausen and Cage, but also played in jazz and rock bands, in which he played a variety of instruments. An effort to establish his own recording studio in 1970 led to a meeting with Edgar Froese, who invited him to join Tangerine Dream.
Tangerine Dream years
Edit
Franke originally joined Tangerine Dream as its drummer, replacing Klaus Schulze, at a time when the band was transitioning from the tape studio techniques of its early days, to synthesizers and other electronic instruments. Franke appeared on drums on TD's second album, Alpha Centuri, but then switched to synths and keyboards. His contributions became pivotal to the band; he is generally credited with creating (with technical help from Peter Baumann) the alternate-time and odd-beat sequencer techniques that the band pioneered on Phaedra.
Franke remained with the band through 1988, through all of what are usually considered the band's peak years and albums, including Ricochet, Stratosfear, Tangram, Exit, and Poland. He last appeared on the 1988 album Live Miles (probably; the provenance of the recordings on that album have been questioned).
Solo Career
Edit
After leaving Tangerine Dream, Franke released two solo albums, Pacific Coast Highway and The London Concerts. The last was a live performance combining music from Highway with selections from Franke's years with Tangerine Dream. After this, Franke turned to composing music for film and television soundtracks. He began commuting between Berlin and Los Angeles, founding the Sonic Images record label and the Berlin Symphonic Film Orchestra. Among his credits are the soundtracks for Universal Soldier and the reality TV series "The Amazing Race".