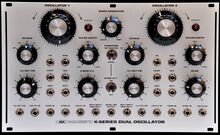 A Scottish maker of synthesizer equipment, mostly modular and semi-modular gear. Proprietor Ken MacBeth is noted for his no-compromises approach to synth design (and pricing to match), and all Macbeth products are strictly analog in signal generation. Current products include modules in both Eurorack and Dotcom format, and the Micromac three-VCO monophonic synth. Notable past products include the M3X monophonic synth and the M5, a semi-modular patterned after the ARP 2600.
Ad blocker interference detected!
Wikia is a free-to-use site that makes money from advertising. We have a modified experience for viewers using ad blockers

Wikia is not accessible if you've made further modifications. Remove the custom ad blocker rule(s) and the page will load as expected.