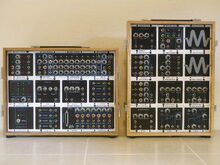 A manufacturer of modular synthesis equipment, based in California in the USA. The company is owned and operated by George Mattson, who was the inventor of the PMS Syntaur, and previously had some involvement with EML. Mattson uses a very small module format (smaller than Eurorack); the modules are two standard rack units (3.5", 90 mm) high and most are also two units wide. The company sells a standard case which holds 12 modules in a space 11-/38" by 15" (about 29 x 15 cm). Standard power is +/- 15V. The company also offers assembled but un-paneled circuit boards for those that wish to build the modules in another format.
Ad blocker interference detected!
Wikia is a free-to-use site that makes money from advertising. We have a modified experience for viewers using ad blockers

Wikia is not accessible if you've made further modifications. Remove the custom ad blocker rule(s) and the page will load as expected.