(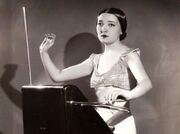 1911-1998) An early-20th-century performer on the
theremin
, a pre-synthesizer electronic instrument.  Her performances in the 1930s and 1940s with the theremin made her the first electronic music performer to gain widespread fame, and she developed some of the essential techniques for playing the instrument. 
Musical Background
Edit
Rockmore was from Vilnius, in what is now Lithuania.  As a young child, she was a prodigy on violin and appeared to be headed to fame for performing on that instrument.  But a series of heath problems as a teenager made it impossible to play violin any further. 
Her family emigrated to New York in 1921.  At about the time she was forced to give up violin, she had the fortune to meet Leon Theremin, who had come to the U.S. in 1927.  She immediately took to the electronic instrument that Theremin had invented, finding that she could play it without the necessity of the arm movement that had restricted her violin playing. 
She began performing with symphony orchestras in the New York area in the late 1920s, quickly gaining fame for her handling of the unique instrument.  She went on nationwide tours and worked with renown conductor Leopold Stowkoski.  However, after World War II, interest in theramin music declined and Rockmore, by now married, went into semi-retirement.  Unfortunately, few recording of her works from this period survives.
In 1977, Bob Moog (who had long had an interest in theremins) worked with Rockmore to record an album, The Art of the Theremin.  Amazingly, in Rockmore's long career, this was her first recorded studio album.  It revived interest in the theremin and her career.  She went on to record several albums and participate in a documentary with Moog and Leon Theremin.  She continued to do public performances and interviews until her health begain failing in 1997.
Her sister was concert pianist Nadia Reisenberg.