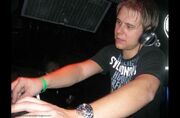 (1976-) Well-known Dutch producer and DJ; he releases albums of both his own tracks and remixes of other artists' tracks.  Van Buuren began remixing tracks as a young teen, and begin performing gigs while attending school at Leiden University.  Gravitating towards the
trance
and
progressive house
genres, he produced a track, "Blue Fear" at the age of 19 which charted in the UK, and become an in-demand DJ.
In 2001, Van Buuren launched the A State of Trance weekly radio show, featuring both his own tracks and remixes of other artists. The show is now widely distributed via outlets including FM radio in Europe, Internet broadcasting, and Sirius-XM satellite radio in the USA. Most episodes are studio productions, but for every 50th episode Van Buuren launches a special series of live performances (the most recent of which have been extended across several episodes).
Van Buuren has a degree in law from Leiden University, but does not practice.
Ad blocker interference detected!
Wikia is a free-to-use site that makes money from advertising. We have a modified experience for viewers using ad blockers

Wikia is not accessible if you've made further modifications. Remove the custom ad blocker rule(s) and the page will load as expected.